Facts About Elopement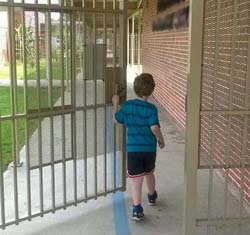 Autism and Elopement:
Almost half of all people with autism have a tendency to elope (wander).  In general, this increases with the severity of autism.
The risk of elopement increases during warm weather, holidays, and travel.
58% of parents rate elopement as the most stressful of autism spectrum disorder behaviors.
62% of families report being prevented from attending or enjoying activities outside of the home.
40% of families report chronic sleep loss as a result of worrying about autistic elopement.
Of the deaths associated with autistic elopement, 92% of victims will be found in water.

Dementia/Alzheimer's and Elopement:
45% of dementia-related elopement occurs within the first 48 hours following a move to nursing home or assisted living care.
80% of cases were known to be chronic wanderers with prior elopements.
89% are found within a mile of home.
31% of nursing home dementia patients will wander. Between 25% and 70% of community-dwelling dementia patients will wander.
79% of dementia-related elopement incidents results in death.